Domain Account Showing Server Connection Error
Question: I recently had my local GlobalVision account modified to a domain-type account. Now whenever I try to log in, I get an error message. What do I do?
The error:
Error connecting to server.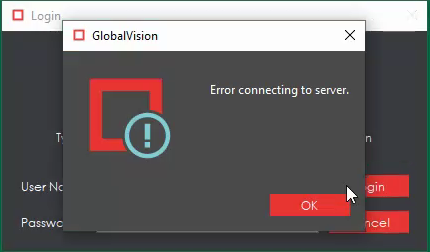 Answer:
There are several factors that may cause this error to develop. Some of these factors include the interference of a firewall and/or antivirus on the problematic workstation, a minor error in the creation of the domain account, etc.
Please do just contact support@globalvision.co for a most appropriate diagnosis and assistance with resolving the issues.